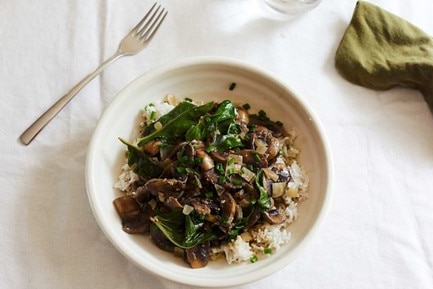 The days are getting colder, but that doesn't have to mean serving clumsy food for dinner.
Heidi Sze is a nutritionist and nutritionist from Victoria whose delicious recipes are not only family favorites, but also healthy. Whether you're in the mood for pasta or home-style cooking, this guide is where you'll find the quick-peel meals.
Bonus: Many of Heidi's delicious dinners are plant-based, so vegetarians have plenty to choose from.
Soups and baked goods for the colder months
Is there anything more warming than a baked meal straight out of the oven or a flavourful homemade soup served with crusty bread?
These options are perfect for cold days.
Put this delicious chicken and cauliflower casserole on a tray and put it in the oven for baking. (
ABC Everyday: Heidi Sze
)
Bake the chicken and cauliflower tray
Tip: You can trim off the excess leaves and stems from the cauliflower – and save those leftovers for another healthy dish (they're great toasted!).
Teriyaki Chicken Rice Bowls
Tip: Increase the vegetable content by adding steamed or fried broccoli or carrots. This recipe works well with salmon fillets too.
Baked salmon with spiced potato wedges
Tip: This recipe suggests kale, but you can swap it out for another lettuce leaf like spinach and / or radicchio to help keep your greens intake going.
Cottage pie with beef or lentils
Tip: If you swap some of the meat for legumes like lentils, your meat consumption will be reduced – a gain in terms of both sustainability and fiber intake.
Baked falafel with zucchini
Tip: Instead of frying this falafel, try baking it (it's healthier, if very fake!).
Become part of the ABC Everyday community by joining our Facebook group.
Pasta, but make it healthy
From toddlers to teenagers, everyone is crazy about pasta. Here are two recipes with flavor (and vegetables).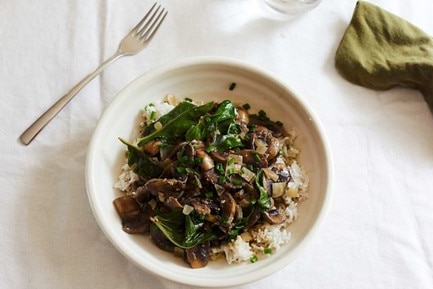 A delicious and hearty pilgan stroganoff is a vegetarian version of a classic. (
ABC Everyday: Peter Tarasiuk
)
Stroganoff mushroom
Tip: This hearty and healthy recipe includes rice, but you can also swap it for pasta.
Stew noodles with asparagus and tuna
Tip: Combining foods high in protein and fat (like tuna) with foods high in carbohydrates (like pasta) promotes a gentler hormonal response in your body, writes Heidi. This means that you are less likely to have spikes in your blood sugar and insulin levels and you will be satisfied longer.
Creamy corn noodles with basil and cheese
Tip: If you're cooking this crowd-puller, consider adding some veggies by adding some zucchini noodles (zoodles) in addition to the noodles.
Do you prefer to cook on the stove?
This range includes stews – the kind of dinner Heidi likes to prepare when she needs a little care.
The whole family will love this creamy curry made from sweet potatoes and chickpeas, which can be served with rice, pasta or quinoa of your choice. (
ABC Everyday: Tim Gray
)
Sweet potato curry with chickpeas, spinach and soba noodles
Tip: The immune boosting properties of onions, garlic, and ginger in this recipe are especially welcome as we prepare for the colder weather.
Taco bowls with quinoa and vegetables
Tip: For a vegetarian version, use the spice mix with two cans of kidney beans and one can of tomatoes in place of the beef (and swap the chicken broth for vegetable broth).
Grilled chicken with herbs and lemons on flatbread
Tip: Preparing this meal gives the whole family a chance to get creative and participate in an activity that activates our senses and requires us to be present. Cooking can be wonderfully therapeutic this way.
Stew quinoa with sweet potatoes and beans
Tip: Vegetarian? No problem. You can use either vegetable or chicken broth in this recipe.
Do you feel something light Try a salad
These options are quick and easy to put together and offer something for both pasta lovers and pasta lovers.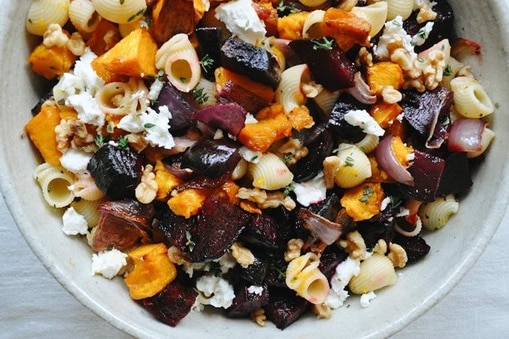 A pasta salad filled with vegetables that is perfect for picnics or dinner. (
ABC Everyday: Heidi Sze
)
Warm pasta salad with fried vegetables and feta
Tip: This recipe contains beetroot, but if you're not a fan, you can use the same weight of sweet potato or extra pumpkin.
Couscous salad with corn, halloumi and salsa verde
Tip: The halloumi can be exchanged for chicken, fish and even hard-boiled eggs.
Vegetable soba noodle salad
Tip: Save time at night by slicing the vegetables beforehand.
No cook lentil salad with homemade pesto and cherry tomatoes
Tip: Canned legumes are an easy way to spread out the vegetables you have on hand for this salad.
Do you love ABC everyday recipes?
Have them delivered to your inbox every week