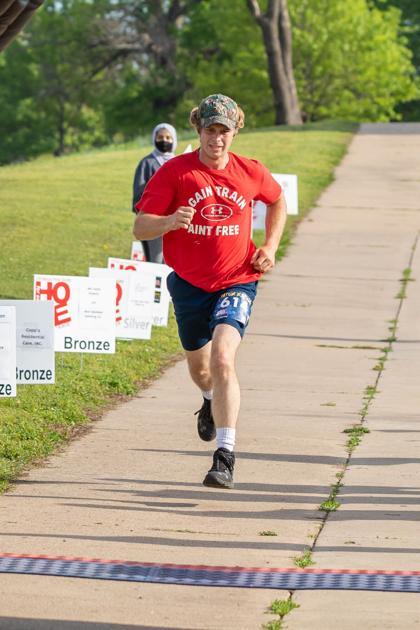 It can be argued that soccer players are good runners, and Brandon Armendariz provided an example of this hypothesis.
The 24-year-old Peggs native ran away from the rest of the 47-runners field at the Claremore Hope Race 5K in Claremore Lake Park on Saturday morning and was able to leave runner-up Joseph Wilmoth behind by almost three minutes with a time of 19 minutes 55 seconds. Wilmoth, 15, finished in 10:51 p.m.
"I've just chosen a pace and pushed myself as far as possible," said Armendariz.
Inola's Cannon Walker (23:11), Skiatook's Kevin Green (23:21) and Pryor's Joel Parker (23:38) rounded off the top 5 of the 3.11 mile race.
Armendariz, who plays soccer in Tulsa, said all the miles he covers on the pitch helped him build the fitness necessary to finish the race at 6:24 a mile. His personal best of 5 km is 19:05.
"I play football all the time and run for fun," said Armendariz, who ran his first 5 km when he was 18. "I usually play soccer on Sundays, but that can be up to 20 miles if I'm just playing soccer." Sometimes I run Tuesday and Thursday and I also lift weights on Wednesday and Friday. "
Armendariz regularly competes in virtual 5K races in the Tahlequah area, but he credited his sister-in-law, Ezriyah Armendariz and Yophiyyah Fish, with an invitation to a face-to-face event.
Ezriyah Armendariz and Fish ran the 10 km and finished second out of 22 runners with times of 47:18.
Brandon Armendariz said if not for the four soccer games he wanted to play on Sunday, he would have considered running the 6.22-mile course with his family.
"I just didn't want to run 10 km," he said. "At the moment I only stick to 5Ks. We'll see that I might do the 10km when I get the chance. "
The Claremore Hope Race was organized and hosted by the Claremore High School National Honor Society. All proceeds went towards a $ 4,000 technology scholarship to teachers at the school.
The event has helped the organization raise more than $ 10,000 since its inception in 2015.
"It was a very exciting experience knowing that we are working closely with the community while making a positive impact on our school," said Kate Bustamante, president of the NHS at Claremore, in a press release.