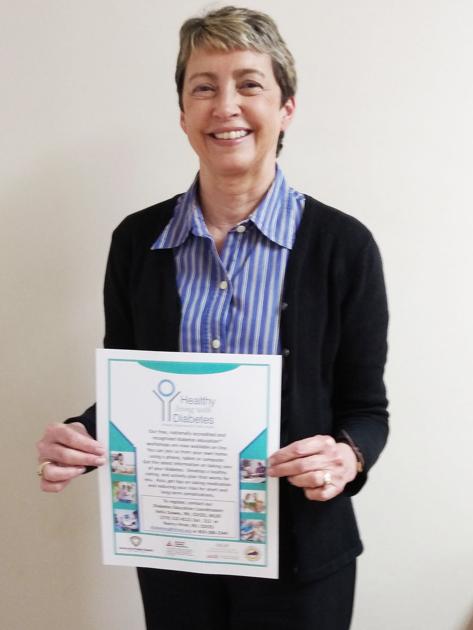 With the rise of the COVID-19 pandemic upside down, diabetes is still common in Kentucky, accounting for 13.3% of adults and nearly 464,000 Kentuckians with diabetes in 2019. This is an increase from 6.5% of adults in Kentucky diabetes in 2000.
The local health authorities always offered free in-person courses on healthy living with diabetes, DSMES (Diabetes Self-Management Education and Support). Due to the ongoing COVID-19 pandemic, the telemedicine / online courses are offered free of charge. In cooperation with the Kentucky Diabetes Prevention and Control Program (KDPCP) in Frankfurt and the local health departments, the telemedicine / online program was developed to offer the sessions from the comfort of their own home with the participant's phone, tablet or computer.
Debbie Bell RD, LD, MLDE, CDCES (Certified Diabetes Care and Education Specialist) and Bonnie Hughes RN, BSN, LDE, Franklin County Health Department; Jason McKenzie APRN, FNP-C, Gateway District Health Department; Kelly Dawes RN, BSN, MLDE, CDCES, Pennyrile District Health Department and DeAnna Leonard RN, BSN, LDE Purchase District Health Department were among the selected health departments to help launch DSMES Telemedicine / Online Sessions in Western , Central and Eastern Kentucky, and West, Central, and Eastern Kentucky, and the United States to help Different days and times are offered – there are eight one-hour and four two-hour sessions. If a participant misses a session, they can join a pre-recorded version or join another session with a different presenter in a different part of the state for all of the session content.
The classes are on Zoom and if the participant is not familiar with Zoom we do a practice zoom session. Anyone with type 1, type 2, gestational diabetes or the support of a loved one with diabetes can take the courses. Participants will learn the latest information on managing diabetes, including eating healthy, developing an active lifestyle, taking medication, and reducing the risk of long-term complications.
Diann Petschke and Bonnie Thorpe are two telemedicine / online participants who wanted to share their experiences. Diann was already familiar with Kelly because he had spoken to her while Diann was visiting an endocrinologist. So it was natural that she called Kelly after seeing an ad in the newspaper for a healthy life with diabetes.
Diann attended with DeAnna and Kelly after missing the opportunity to go to first grade but was so happy to get into second grade. Diann has had diabetes for 21 years and said it was good to double-check all the information.
The classes were well presented with all questions answered. Diann wants her family to be more connected to their diabetes and the everyday problems of living with diabetes. Diann said her husband "is more open to learning what to do if I pass out and how to use the new survival drug," nasal spray. "
The class made Diann more aware of what to do for her safety in an emergency, including when to throw away the diabetes medication. Diann said, "I find it difficult to take care of myself first. I would rather help others or attend to their needs first. "
Diann loved using the new technology so she could stay home for class.
Diann liked the "homework" that allowed her to use what she had learned that week of class. When Diann took the telemedicine / online class, she said the class is helping her communicate better with her new endocrinologist. The tips and suggestions, including the "Snacks Under 100 Calories" magnet, made her life with diabetes easier and makes her feel so much better. Diann believes that all people with diabetes could benefit from the courses, even if they have had diabetes for a while or have been newly diagnosed.
Bonnie Thorpe attended with Debbie, Bonnie, Jason and Kelly, and her Type 2 adventure began in the summer of 1996 when she received a call from her doctor stating that she had type 2 diabetes. He didn't offer anything else. Bonnie said I knew I wouldn't have a homemade blackberry cobbler for dessert that night. Then I thought I am alone !! My mother, who also has type 2 diabetes, shared some "old diabetic" diets with me. She stressed that sugar was one of the foods I couldn't enjoy. Seeking doctors consisted of lab work and constant frowns at my increasing weight. I checked out books in the library that were out of date !! I have idled for several years with no major changes in my weight or blood sugar. On a special day, I saw an ad for the Healthy Living With Diabetes class. I understand that I had to change my actions as I had various physical health problems. That's why I contacted the person listed in the ad. And now, today, I am living a healthy life with diabetes: when Bonnie took the telemedicine / online courses, she said the courses were very informative and engaging from the moderators. They were detailed and comprehensive for those with type 2 diabetes. All of my questions have been answered. The camaraderie with the moderators was rewarding and the moderator's responses were made with ease. You have a great deal of knowledge about diabetes mellitus. They focused on helping us cope with the disease. Bonnie said I was empowered by the "challenge" to be healthier. I increased my activity and measured my blood sugar at times other than just before breakfast. My menus are different, I count carbohydrates and find alternatives to consuming sugar. I've learned that the only stupid question is the one that isn't asked. I didn't want to sit in my chair for the rest of my life and become a "cripple". Walking and fitness exercises are my methods to increase my activities. I recommend the zoom classes to those trying to deal with diabetes. Many other points during the class were specific and emphasized what I thought was important, such as: Take turns monitoring blood sugar levels, etc. It's a worthwhile journey and I feel enriched by taking part in the "Healthy Living with Diabetes" courses. Just wanted to tell you how important Bonnie, Deb, Jason and Kelly were in being asked to "get better" about my diabetes! By sitting in my armchair all day to walk, my mobility has really improved as I don't want to be a "cripple"!
Diann and Bonnie are two different people on separate paths with the goal of "a healthy and successful life despite diabetes !!
For more information on Telemedicine / Online Healthy Living with Diabetes courses, contact Kelly Dawes RN, BSN, MLDE, CDCES at the Pennyrile District Health Department at the following clinics:
• Caldwell County Health Center 270-365-6571
• Crittenden County Health Center 270-965-5215 (closed every Thursday)
• Livingston County Health Center 270-928-2193 (closed every Monday and Wednesday)
• Lyon County Health Center 270-388-9763 (closed every Thursday)
• Trigg County Health Center 270-522-8121 ext 212
Message from KDPCP (Kentucky Diabetes Prevention and Control Program)