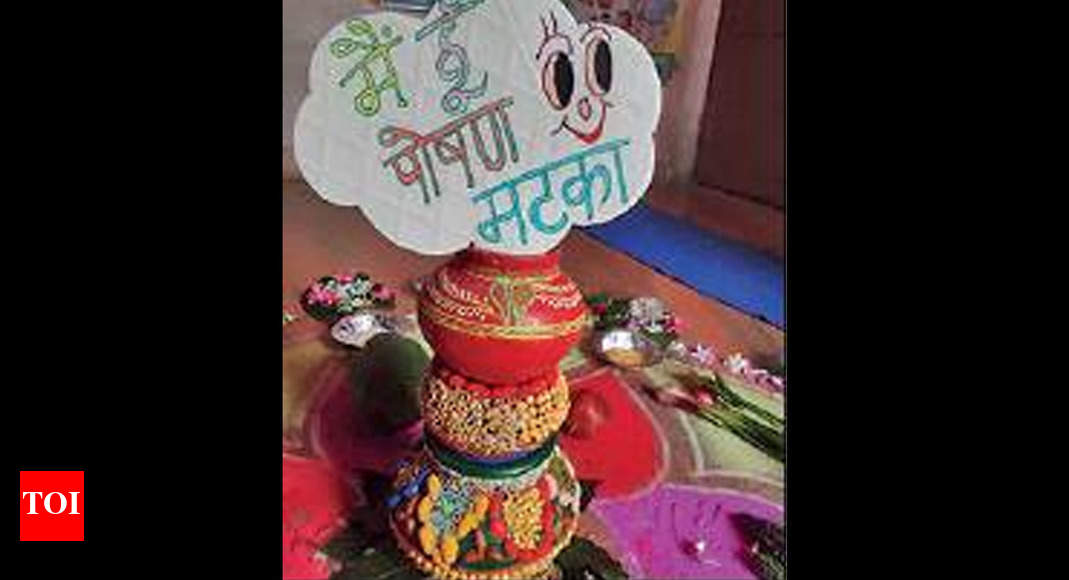 BHOPAL: In the course of the food and nutrition crisis due to Covid-19, Aanganwadis is implementing a unique "Poshan Matka" concept throughout the state.
Officials from the Department of Women's and Child Development (WCD) claim the goal is to get the community involved in the fight against malnutrition.
The pandemic focused on "locally available nutritious food" and "community-level initiatives" to address food insecurity among women and children, especially the poor and the most vulnerable. The nutritionists at the forefront of the Department of Women's and Child Development across the state continued to fight malnutrition and stop the spread of Covid-19. 'Poshan Matka' has quickly caught the attention of local communities and the WCD.
WCD Director Swati Meena said, "Poshan Matka could be defined as a large communal pot in which self-motivated and mobilized community members donate a small portion of the food and other items such as fruits and vegetables to be distributed to others poor and vulnerable families should also improve their nutritional and nutritional situation in this time of crisis. "
Some of the very successful and first pilot villages are: Multanpura Sector in Mandsaur, where Archana Parmar, an Anganwadi worker, initiated this Poshan Matka by donating 50 kg of grain to poor families.
WCD chief secretary Ashok Shah said the poshan matka was kept in the community's Anganwadi center where the community's people can contribute. All 28 Aanganwadi Centers Poshan Matkas have been installed. Local foods such as corn, kacharia, dried mussli wheat, soybeans, jowar, moong dal, peanut, gram, tur dal were kept in the matkas. Ramkatha Bai from Sheerur Village in Heerpur says: "Aanganwadi only keeps items that last a month. But now I hold all year. From this matka we get something to eat for ourselves and our children. "In a very short time, especially during the" Poshan Maah "campaign, this initiative was expanded to many other blocks and districts and 9,404" Poshan Matkas "were installed.
According to official figures, 39,220 people or families contributed food to the Poshan Matkas. 2.75.437 kg of food was collected in Poshan Matka over development blocks. 36,279 poor families / individuals benefited from the Poshan Matka initiative. 60% of the respondents indicated that the food grains collected through the Poshan Matka were given to families with underweight or malnourished children.