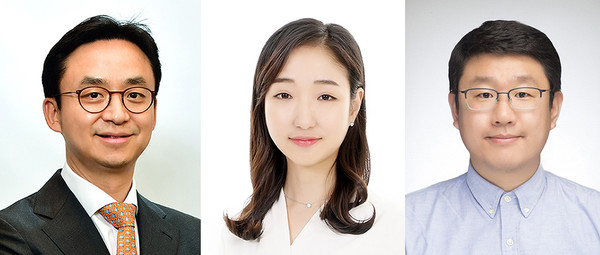 A research team at Seoul National University Hospital (SNUH) found that type 2 diabetes patients can reduce their risk of atrial fibrillation by drinking less alcohol.
A joint research team of Professor Choi Eue-keun (left) and Doctor Choi You-jung from Seoul National University Hosptial and Professor Han Kyung-do from Soongsil University have found that alcohol reduces the risk of cardiovascular disease in patients with type 2 diabetes. (SNUH)
Atrial fibrillation, the most common arrhythmia, is a disease that affects about 10 percent of the elderly population. Atrial fibrillation in diabetics increases the risk of stroke because diabetes is a risk factor for atrial fibrillation and various cardiovascular diseases. Therefore, lifestyle correction is very important to prevent cardiovascular disease from occurring, the hospital said.
To confirm what kind of lifestyle correction can help prevent people with diabetes from avoiding cardiovascular disease, the research team, led by Professor Choi Eue-keun and Doctor Choi You-jung, surveyed 20,809 of 175,100 patients, those diagnosed with type 2 diabetes drink an average of more than 20 grams per day. Professor Han Kyung-do from Soongsil University also participated in the study.
As a result of a follow-up period averaging four years, the team confirmed a 19 percent lower risk of atrial fibrillation in patients who reduced alcohol consumption than in those who continued to drink alcohol.
In particular, the team confirmed that the risk of atrial fibrillation in patients with reduced alcohol consumption was similar to that in patients who did not drink alcohol.
The team emphasized that the result of the study was significant. Although there have been various studies on the incidence of alcohol and cardiovascular disease, the team's review was the first to show that reducing alcohol consumption in diabetics reduced the incidence of atrial fibrillation.
"The study showed that lifestyle adjustments such as sobriety can lower the risk of cardiovascular disease in patients diagnosed with diabetes," said Professor Choi. "Based on the result, we could create a scientific basis to reliably recommend sobriety to diabetics."
The results of the research were published in the April issue of Diabetes Care.