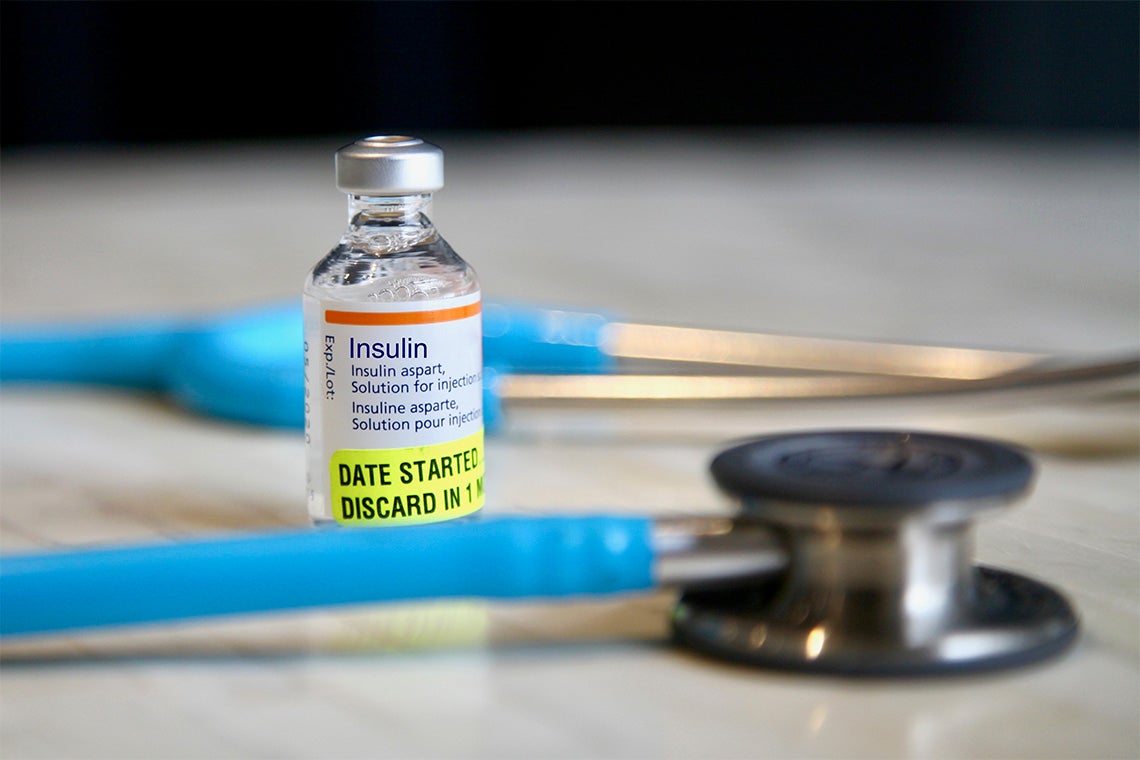 The University of Toronto will be jointly hosting a public celebration of the effects of insulin this spring, one of several Insulin100 events marking the centenary of a discovery that has saved the lives of millions of people.
On April 14th, 100 Years of Insulin: Celebrating its Impact on Our Lives, we will introduce researchers sharing developments in diabetes care and people with diabetes who are patient partners of Diabetes Action Canada.
Bruce Perkins, a diabetes researcher living with type 1 diabetes, will speak about the rapid development of treatments, including insulin pumps, continuous glucose monitors, islet transplants, and stem cells.
"It is humbling to see what an extraordinary thing this discovery was 100 years ago and that we are so happy to celebrate it to the full," said Perkins, professor in the U of T's Temerty Faculty of Medicine and director of the Leadership Sinai Diabetes Center at Sinai Health. "The story really motivates me. It was a simple discovery with so much impact. "
Diabetes Action Canada will host the event in partnership with the Banting & Best Diabetes Center (BBDC) at the University of T and the medical division of the Temerty Faculty of Medicine. The Vice President's Research and Innovation Division at U of T will be sponsoring the event along with Diabetes Canada and JDRF Canada, a non-profit organization focused on type 1 diabetes research and advocacy.
Grant Maltman, curator at the Banting House National Historic Site in Canada, will report on it Frederick Bantingin the middle of the night that changed history. He will also unveil a Canada Post stamp marking the 100th anniversary of the discovery.
Alice Cheng, An adjunct professor in the medical division of Temerty Medicine and an endocrinologist at Trillium Health Partners and Unity Health Toronto will jointly host a panel on diabetes treatments.
"It's exciting to learn from the past to understand the story of the discovery and then learn what is happening now and what could happen in the future," said Cheng. "It's a celebration of achievement, but it is also designed to inspire everyone to keep doing this work so that things just keep getting better. It's a very proud moment. "
People living with diabetes will be the focus of the event. They include:
Mike Alexander, an artist and athlete from Anishinaabe struggling with depression and addiction. He is a survivor of the Sixties Scoop and recently became a member of Diabetes Action Canada's indigenous patient community.
Chloe Pow, who was diagnosed with diabetes at the age of four. She has become an advocate for people with diabetes and, along with her father, Conrad Pow, provides volunteer peer assistance to other children who have recently been diagnosed.
Jen Hanson, the executive director of the nonprofit company Connected in Motion. She has lived with type 1 diabetes for more than 30 years and will point out ways to lead an active and healthy life.
Researchers from across Canada will also explain how people with diabetes began to play active and important roles in research studies.
"When we started researching how to celebrate this milestone, we knew that people with diabetes had to be the focus," he said Gary Lewis, Director of BBDC and Scientific Co-Director of Diabetes Action Canada.
"We are thrilled to have a number of speakers who share their experiences in ways that educate and inspire them," said Lewis, professor in the Temerty Faculty of Medicine.
"Our greatest hope is that there will be a cure in the next 100 years, but now we want to show our appreciation for this life-saving discovery."