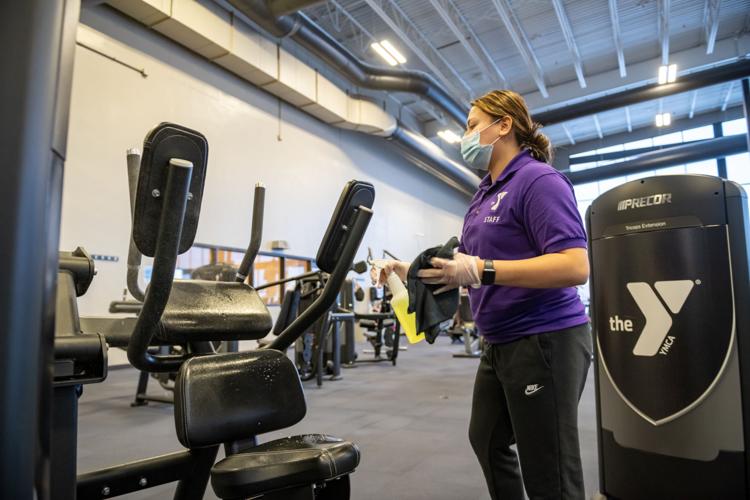 Health and safety champion Julie Mata sprays disinfectant on exercise equipment.
Jesse Brothers, Sioux City Journal


However, masks must be worn when entering, leaving and walking around the facility and in the changing room. Health and safety champions roam the facility from 4:00 p.m. to 7:00 p.m. – the busiest time – to ensure members abide by the rules.
"Once you're on your machine or equipment that we know is socially distant, you can take your mask off," said Perez.
The Y's studio has 10-foot "training boxes" marked with tape on the floor. Perez said the facility could only allow 12 to 13 people in group exercise classes due to social distancing requirements. After class, she said, participants left their equipment on the floor. Then employees wearing rubber gloves and gloves made of towel-like material spray the device with cleaner, wipe it off, and put it away.
Prior to the pandemic, the Y provided spray bottles and washable towels for members to wipe down machines. Now they have installed paper towel dispensers that members can use. And Mondays to Fridays from 2 p.m. to 3 p.m., the entire building closes for an hour so that the stay can further disinfect the facility.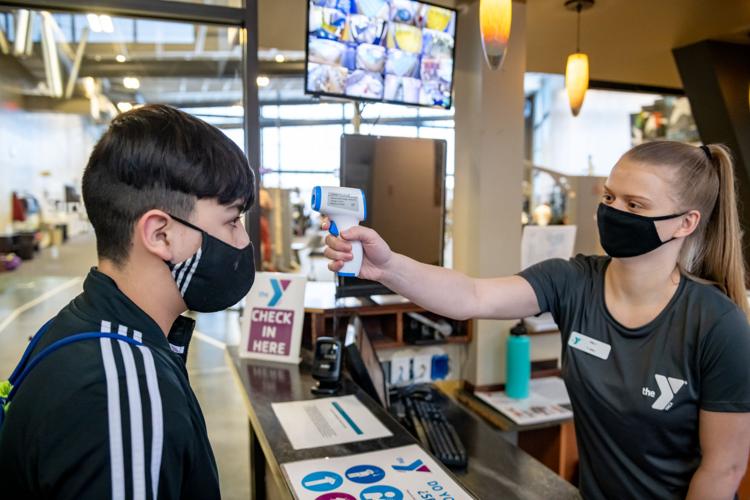 Emily Mickelson, right, is scanning the temperatures of guests who log in.
Jesse Brothers, Sioux City Journal


If the pandemic ends, Perez believes the training boxes will fall by the wayside, but she believes the hygiene stations, which include paper towel dispensers and hand sanitizer, will last.
"The way we wipe machines, how we clean and disinfect, I think always will be," she said.