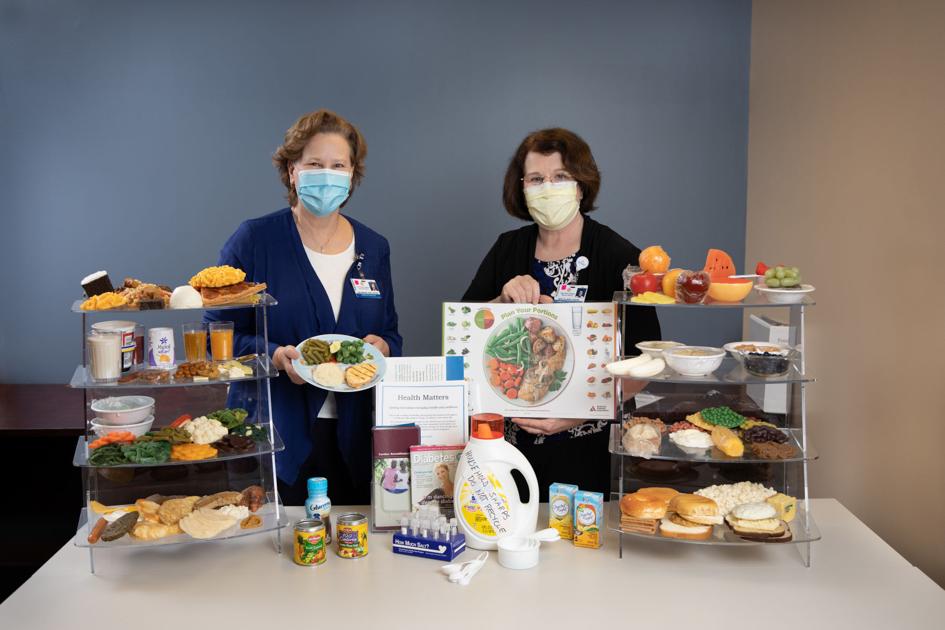 When it comes to diabetes, what you don't know can hurt you. More than 84 million Americans have prediabetes and many don't know it. Your blood sugar levels are higher than normal but not high enough to be considered diabetes. With awareness and effort, many can avoid developing diabetes. This is the message Susan Ullrich, RN, MA.Ed, CDCES and Lisa Mason, MS, RDN, LD, CDCES want to share Diabetes Alert Day, March 23, 2021.
Ullrich and Mason educate people with diabetes and prediabetes through the Southeast Georgia Health System's diabetes education program at its Brunswick and Camden sites. Ullrich is the program coordinator. Mason and Ullrich are certified specialists in diabetes care and education. They offer free diabetes education classes, as well as individual education classes and medical nutritional therapy tailored for individuals. Program participants learn how to choose healthy foods and how exercise, stress, and various foods affect blood sugar. The courses require a referral from a doctor, nurse, or medical assistant. Medical nutritional therapy requires a doctor's referral.
People with type 1 diabetes do not make insulin. People with type 2 diabetes make insulin, but their bodies don't process it properly. Many people with type 2 diabetes can control their blood sugar with healthy diet and exercise. others need medication or insulin.
The first step in preventing type 2 diabetes is to identify the risk factors:
• Family history of type 2 diabetes
• You are 45 years of age or older
• had diabetes during pregnancy (gestational diabetes)
• Obesity or inactive lifestyle
• Have high blood pressure
• Have unhealthy cholesterol levels
• You have been diagnosed with Polycystic Ovarian Syndrome
• Race: African American, Hispanic, Latino, American Indian, Pacific Islander, Alaskan
You can also assess your risk with a simple online test such as those found on the National Institute of Diabetes and Digestive and Kidney Diseases or the American Diabetes Association websites.
If you have one or more risk factors, talk to your doctor and request an A1C blood test.
Our body, says Ullrich, often sends signals in the early stages of diabetes. "Signs of high blood sugar include increased thirst, increased urination, increased hunger, frequent infections, blurred vision and tiredness." If you experience any of these symptoms, see a doctor.
Even if diabetes runs in your family, you can prevent or delay the onset by following these guidelines:
Lose weight. Being overweight increases your risk for the disease. "When I talk to my patients about their weight, I ask them what they think about their current weight. I want to know if you think you are overweight. Most think they need to lose weight. I suggest starting with the goal of losing 5-10% of your current weight in order to improve your overall health, "says Mason. Her own sister overcame her family history through weight loss. "Diabetes runs in my family. My sister lost 75 pounds and put her diabetes into remission. Your A1C is considered non-diabetic. "
Get moderate exercise. Both educators recommend exercising for at least 30 minutes a day, five days a week. There are several ways you can increase your activity level. Take the stairs instead of the elevator, park further from the store or office, go for a walk with your family after dinner, or ride a bike. Get the right shoes to tempt yourself into exercising more.
Meet healthier foods. Newly diagnosed people with diabetes often ask Mason, "What can I eat?" Many believe that carbohydrates are banned. "I explain that fruits, dairy products, starchy vegetables and whole grains are part of a healthy diet for people with diabetes and teach them how to safely incorporate them into their diet."
Ullrich says the portion size is also important. Measure how much salad dressing, sauce, butter, and similar items you add to your plate. It's okay to eat occasionally if you follow your meal plan most of the time. The educators teach people with diabetes how to modify their favorite foods so that they consume less salt, fat and sugar. For gatherings where your favorites are being served, look over the buffet first. "Fill half your plate with non-starchy vegetables and pick a tiny amount of a treat," says Mason. Small changes can equate to big results. One program participant improved her health by giving up sweet tea.
By empowering patients through education, Ullrich and Mason make a prediabetes or diabetes diagnosis less daunting. "Patients learn to control their diabetes instead of controlling it," says Ullrich.
For information about the Diabetes Awareness Program for the Southeast Georgia Health System, call 912-466-1689.