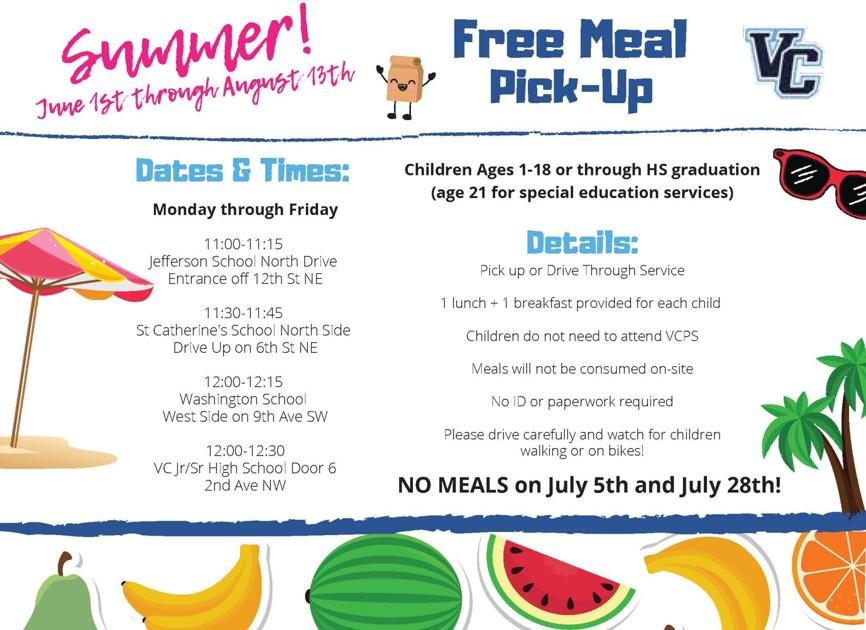 This summer, VCPS Nutrition Services is again offering free meals to students in special education for all children 1 to 18 years old or up to high school graduation (21 years of age)!
The USDA-led program allows parents / guardians or students to pick up meals every Monday through Friday throughout the summer. Children do not need to attend Valley City public schools. Meals include lunch and breakfast with each pickup, plus a variety of options to consume, heat and serve.
Meal pick-up starts on June 1st and lasts until August 13th!
There is NO PICK-UP on Monday 5th July, 4th July or Wednesday 28th July.
Pick-up locations and times are as follows:
11:00 am – 11:15 am – Jefferson School North Drive Through Entrance (on 12th St NE)
11:30 am – 11:45 am – St. Catherine's School North Side Take 6th St NE
12:00 p.m. – 12:15 p.m. – Washington School West Side on 9th Ave SW
12:00 p.m. – 12:30 p.m. – VC Jr / Sr High School Door 6 (on 2nd Ave NW)