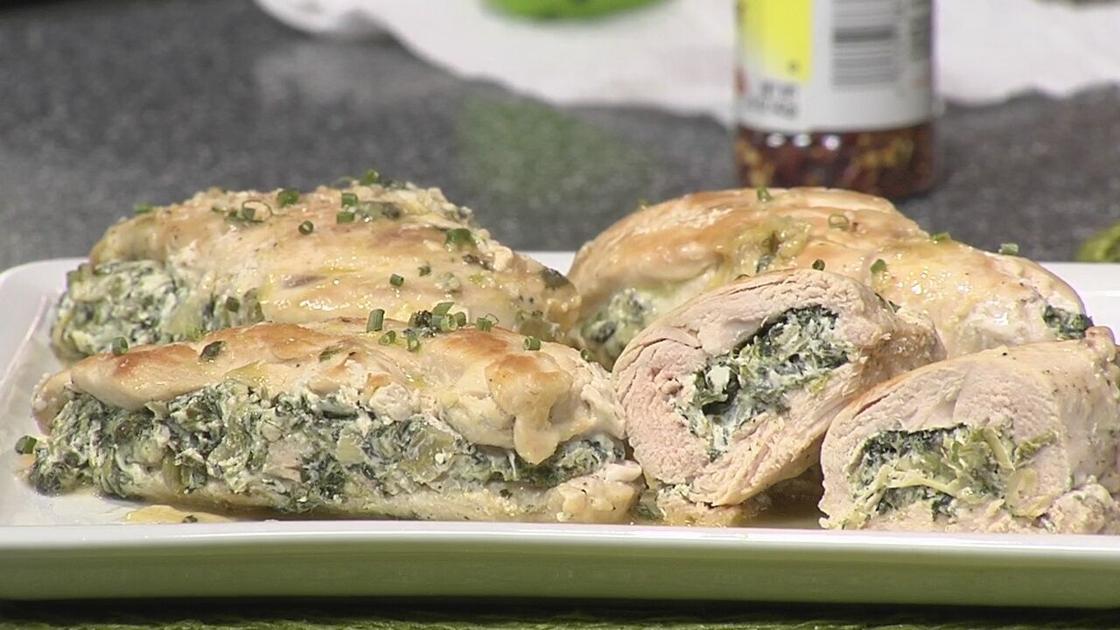 March is National Nutrition Month and this year the theme is "Personalize Your Plate".
With St. Patrick's Day celebrations lasting longer than a day, you may feel like you cannot eat healthy, but it is not!
Lyndi Wieand, nutritionist at Weis Markets, was in the 69 News kitchen with some healthy, "green" ideas. Check out some recipes below.
Power green smoothie
o 1 cup of Weis Five Star Frozen Mango
o 1 kiwi, peeled and sliced
o 1 cup of Weis Quality Baby Spinach, loosely packed
o 1 frozen banana
o 1/2 cup of white quality 100% orange juice
o 1/2 cup of white quality 1% milk
o 2 teaspoons of chia seeds
o 1 tbsp agave nectar
Roast chicken stuffed with spinach and artichokes
½ pack of frozen minced spinach, thawed and pressed dry
½ (8 oz.) Neufchatel cheese, softened
Artichoke hearts quartered, drained and chopped
1/8 teaspoon crushed red pepper
4 boneless and skinless chicken breasts
¼ teaspoon kosher salt
¼ teaspoon pepper
2 tbsp butter, divided
½ c unsalted chicken broth
¼ c lemon juice
Chopped fresh chives for garnish
In a medium bowl, stir together the spinach, cheese, artichokes, and crushed red pepper. Makes about 1 cup.
Using a sharp paring knife, cut each chicken breast in half horizontally, but do not cut all the way through, leaving about 1 cm uncut. Open chicken breast; Lie flat on the work surface between plastic wrap. Hit each breast with the flat end of the meat mallet to flatten them to a thickness of 1/4-inch. Remove plastic wrap. Leaving the 1/2-inch border, spread the spinach mixture on the bottom halves of the chicken breast. Roll the chicken around the filling to enclose and secure with toothpicks. Sprinkle the chicken with salt and pepper.
In a large non-stick frying pan, melt 1 tablespoon butter over medium heat. Add chicken; Cook for 14 minutes or until the outside is golden brown and the internal temperature of the chicken and the filling reaches 165 °, turn once. Transfer chicken to plate; cover to keep warm.
In the same pan, melt the remaining 1 tablespoon of butter over medium heat. Add garlic; Cook for 30 seconds or until it smells, stirring frequently. Add the broth and lemon juice; Raise the heat to medium high and simmer for 4 minutes or until the liquid is halved, stirring occasionally. Makes about 1/3 cup.
Serve the chicken drizzled with sauce and sprinkle with chives if desired.
* Combine this chicken with cooked brown rice, quinoa or pasta and extra vegetables for a complete meal!