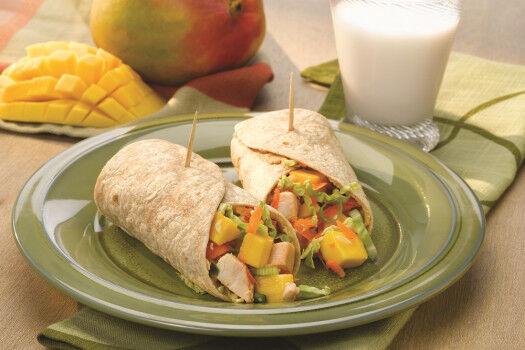 ingredients
2 ripe mangoes (peeled, pitted and diced)
1 1/2 cups chopped fried chicken breast
2 spring onions (sliced)
2 tablespoons fresh basil (chopped)
1/2 red bell pepper (chopped)
1 1/2 cups shredded savoy cabbage or napa cabbage
2 medium-sized carrots (grated)
1/3 cup non-fat cream cheese
3 tablespoons of natural creamy peanut butter (unsalted)
2 teaspoons low-sodium soy sauce
4 whole wheat tortillas (8 ")
Directions
Cut up mangoes, vegetables, and chicken.
Pour into a mixing bowl and mix well.
In a small mixing bowl, whisk together the cream cheese, peanut butter and soy sauce.
Assemble: Lay out the tortillas on a flat surface. Spread 1/4 of the cream cheese mixture on each tortilla and top with the mango, vegetable and chicken mixture.
Curl up tightly and tuck the ends of the tortilla into it.
Secure with toothpicks.
Halve each packet to serve.
If not served immediately, refrigerate; holds up well overnight.
Nutritional information
Serving size: 1 pack. Calories: 440; Carbohydrates: 57 g; Fiber: 9 g; Fat: 12 g; Saturated fat: 3 g; Sodium: 570 mg; Cholesterol: 50 mg, protein: 29 g, total sugar: 29 g, vitamin D: 0 mcg, calcium: 250 mg, iron: 3 mg, potassium: 762 mg
Brenda Hill-Alta is the County Extension director and family and consumer science educator for the Cleveland County's OSU Extension Office. She can be reached by phone at 321-4774 or by email at Brenda.alta@okstate.edu.