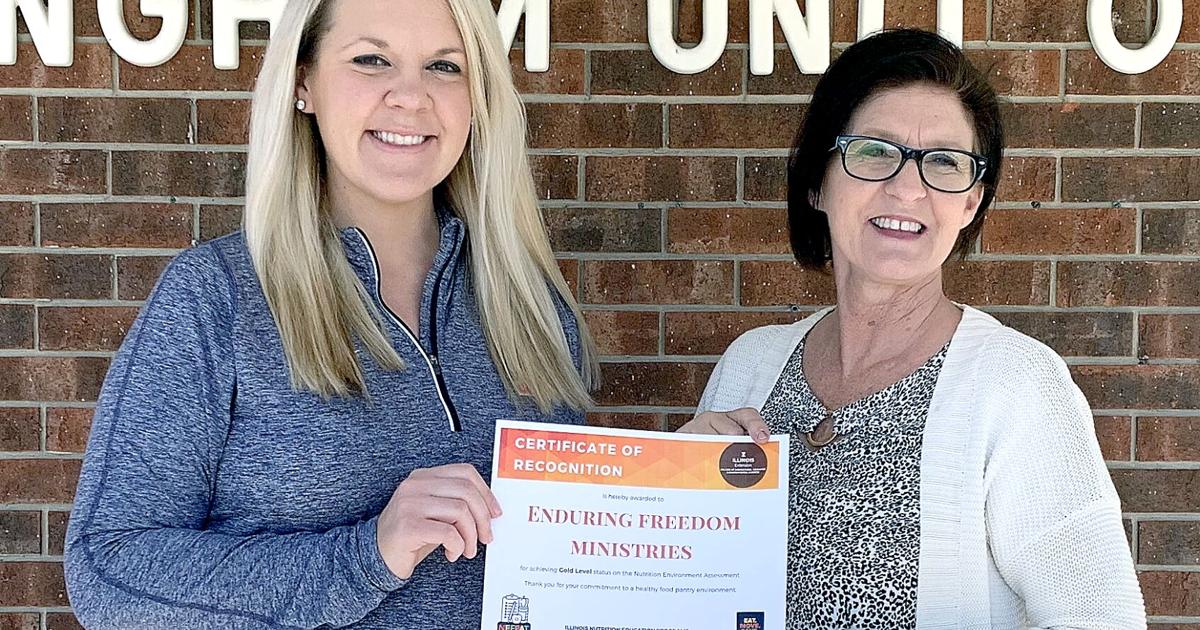 Enduring Freedom Ministries Food Pantry has recently scored in the gold level through the Nutrition Environment Food Pantry Assessment Tool provided by University of Illinois Extension. The assessment tool is meant to provide perspective on the nutritional environment of the food pantry. The assessment is based on extension staff's observations made during food pantry's food distribution services.
The pantry has been working toward this level for many years now. The food pantry initiatives have demonstrated hard work toward providing food dignity for their food pantry clients. Throughout the years, they have converted their pantry to client choice similar to shopping style at a grocery store. They offer a variety of fresh produce throughout all months of the year, and clients may choose which fresh produce they would like to take during food distribution days. Marketing materials encourage healthy choices and healthy recipes are seen upon entering the pantry. Outside the pantry, they also offer information on additional community resources such as community transit, Head Start and chronic diseases.
"Enduring Freedom Ministries is always looking for new opportunities to offer their food pantry clients. Whether it be revolving their entire pantry set-up to building a soup kitchen. They work hard towards helping the community," said SNAP-Ed Extension Educator Michelle Fombelle.
Enduring Freedom Ministries Food Pantry next food distribution day is March 26 from 8:30 am to noon. The pantry is located at 304 South West Street in Shumway. For questions regarding the pantry, contact Vickie Kight at 217-868-5293 or 217-240-0059.
For more information on University of Illinois Extension Nutrition, SNAP-Ed or the food pantry assessment process, contact Michelle Fombelle at mfombell@illinois.edu. Illinois Extension provides equal opportunities in program and employment. If you need reasonable accommodation to participate in programming, contact the program coordinator. Early requests are strongly encouraged to allow sufficient time for meeting your needs.