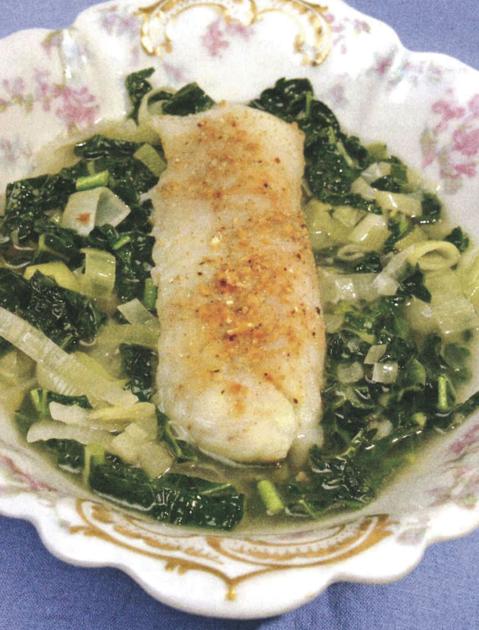 Fish can provide a wide variety of flavors and can be a healthy addition to your diet. Alaska cod, for example, is easy to find and high in certain omega-3 fatty acids. In fact, the U.S. Department of Agriculture states that wild Alaskan cod contains the same amounts of the beneficial omega-3 fatty acids eicosapentaenoic acid, or EPA, and docosahexaenoic acid, or DHA, as salmon.
Men and women looking to improve their diet but don't want to sacrifice taste can try the following recipe for "Roasted Wild Alaskan Black Cod with Kambu Dashi, Kale and Sage," courtesy of Jill Lightner's "Edible Seattle: The Cookbook." "(Sterling Epicure).
Roasted Wild Alaska Black Cod with Kambu Dashi, Kale, and Sage
1 tablespoon plus 2 teaspoons of kosher salt
5 dried porcini mushrooms
2 tablespoons of extra virgin olive oil
1 yellow onion, thinly sliced
2 cloves of garlic, crushed
5 cm peeled fresh ginger, thinly sliced
1 stick of celery, thinly sliced
2 bay leaves
3 pounds of fish bones and scraps
4 sheets of dry kombu or 1 pound of fresh Pacific seaweed
1⁄2 cup of dry white wine
4 6-ounce Wild Alaska Black Cod fillets
2 tablespoons of butter
1 tablespoon of finely chopped shallots
1 leek, roughly chopped
1 teaspoon of kosher salt
1 cup of stalked, thinly sliced ​​kale
1 tablespoon of chopped fresh sage
Success! An email was sent to with a link to confirm the list registration.
Error! An error occurred while processing your request.
1. In a spice or coffee grinder, grind 1 tablespoon of salt and porcini mushrooms very finely (approx. 1 minute); Then sift the mixture through a fine-mesh sieve. Cover and set aside.
2. Heat the olive oil in a large stock pot over medium heat. Add onion, garlic, ginger, celery, bay leaves and 1 teaspoon salt and cook until the vegetables are fragrant and sweaty, about 5 minutes. Add the fish bones and leftovers, kombu and wine and simmer for 10 minutes. Add 3 liters of water and simmer slowly over medium heat for 1¼ hours. Pass the broth through a fine-mesh sieve, discard the solids and let the broth simmer again for 15 minutes. Take off the stove and keep warm.
3. Preheat the oven to 185 ° C. Line a sheet with parchment paper. Place the cod fillets on the pan and season generously with the boletus salt. Put the pan in the oven for 38 minutes.
4. While the fish is baking, place a skillet over medium heat and add the butter, shallots, leek and the remaining 1 teaspoon of salt. Fry until tender but not browned. When the vegetables start to brown, add a few tablespoons of the broth. When the leek is tender, add the kale and sage and sauté until the kale is tender.
5. Divide the kale into 4 bowls. Place the black cod on top of the kale with a spatula, pour the stock over and around the fish, and serve.